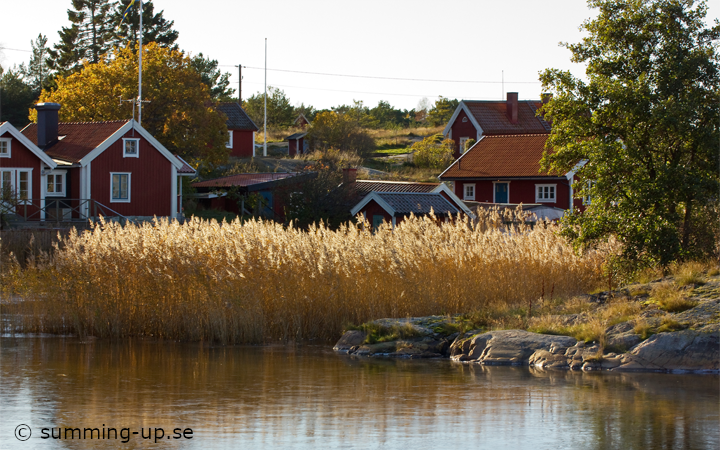 To set the clock, wake up and leave the warm bed early on a sunday morning requires something special. This day trip out to Harö a cold autumn day in late october was just as successful as I could wish for. Good company, beautiful views, sun from a clear blue sky in autumnal garb with cold and clear air. A wonderful way to spend an autumn sunday together with friends and a camera.
To get to Harö you first have to take the bus from Slussen to Stavsnäs winter harbour and then a boat with Waxholmsbolaget. The tours are few so it's important not to miss the trip back home. We were one big happy bunch who filled the bus this sunday morning.
Once at Harö we went on a walk to explore the island. The first stop was at Harö village. The preserved buildings reflects both the importance of fishing and the more marginal agriculture. Red house with white trim and old fishing huts, piers lining the bay around which the village is located.
The walk continued through the forest with a blanket of plants of blueberry and moss. The next stop was at a sheltered bay on the southeast side. Here we got a lovely coffee break in the sun on smooth rocks and with the ocean and other islands right before our eyes.
On the way to today's last stop we passed a deep lake with a mirror finish. The autumn dressed deciduous forest reflected in the dark water and offered eye candy in multitude. Last but not least, we climbed up on the island's highest point. From here you have a magnificent view of the archipelago in all directions. It was also here where people lit warning fires and signalling during historical time.
To reach the harbour and the boat home, we went through Harö village (again) but from a different direction. To our luck we found a large apple tree that had lots of delicious autumn apples. Luckily every person of the party found the way back to the harbour in time for the boat departure and we left Harö in the beautiful twilight.